Aug 31, 2022
With the wide range of options on the market, choosing the best kitchen knife for you can feel like a daunting task. That's why we've put together a complete guide that covers everything from how to know if a knife is good quality to what to look for in a knife set. We'll also point you in the direction of some of the best kitchen knives for a variety of different budgets.
What Is a Good Kitchen Knife?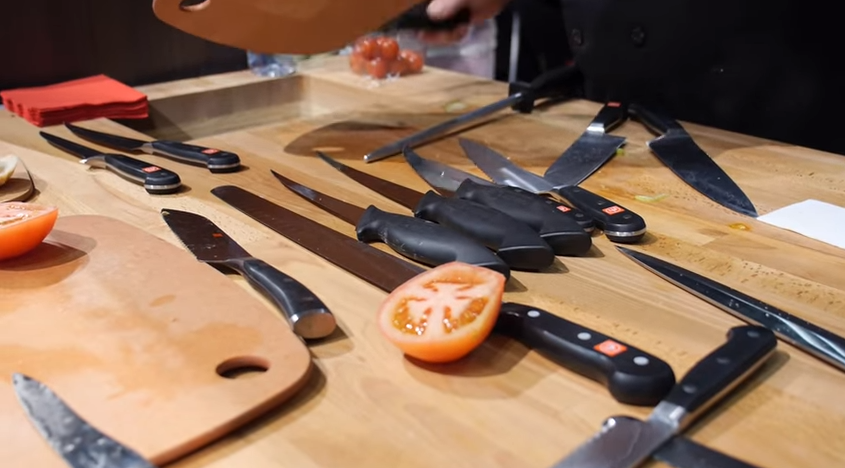 The truth is that there's no one size fits all option when it comes to finding the best kitchen knives. It's all about finding the best knife for your unique needs and budget. That's why we've assembled a range of the best kitchen knives from a range of different price brackets. We've also included knives intended for a variety of different uses, from all-around versatility to specialty use.
What is the Most Versatile Kitchen Knife?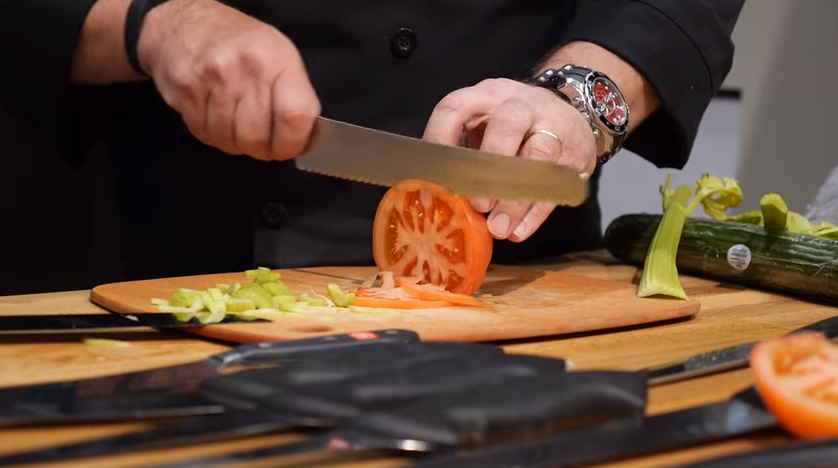 While cooks commonly use a wide array of different types of knives, a chef's knife is the most versatile. Chef's knives are the workhorses of the kitchen world, due to the fact that good ones can be used for everything from cutting meat to mincing vegetables. If you're looking for a great all-around knife, a chef's knife is definitely the way to go. If you're looking to take things to the next level, however, you may want to explore the possibility of a full knife set.
Different Types of Kitchen Knives and Uses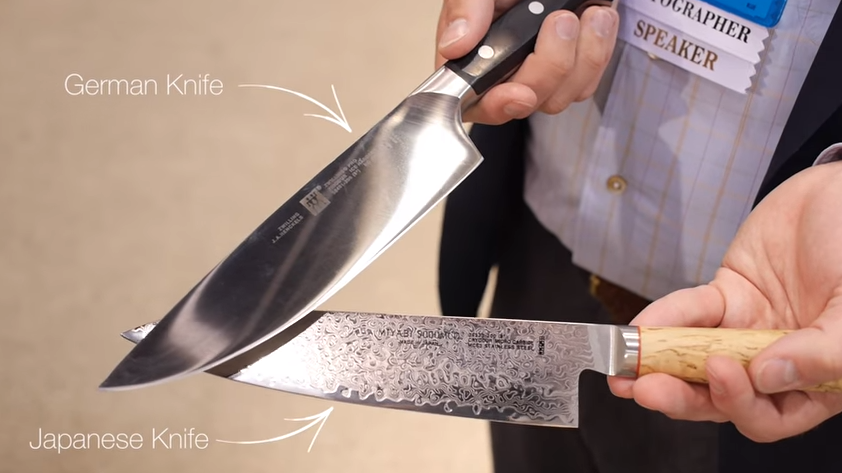 Broadly speaking, the two most common types of kitchen knives used by professional chefs are usually either German-style or Japanese-style. While both are excellent choices, knowing the difference between the two may help you make a more informed decision.
German-style aka Western-style knives tend to be a bit thicker and heavier, but are made from softer steel. There's also a slight difference when it comes to the shape of the blade itself. As explained by Ktchn:
"The geometry of a German knife is curved, which facilitates the rocking style of chopping."
Japanese-style knives, on the other hand, are often lighter, thinner, and sharper than their German counterparts. They tend to be great for making precision cuts and are usually made from stronger steel.
When it comes to the different types of knives you'll usually find in a set, here are some of the most common:
Paring Knives- often used for slicing or coring fruit, these knives are designed for finer, more intricate cutting.
Bread Knives- used for slicing loaves of bread
Nakiri Knife- a Japanese style knife often used for chopping
Santoku Knife – often used for cutting meat or vegetables
How to Choose the Best Kitchen Knives?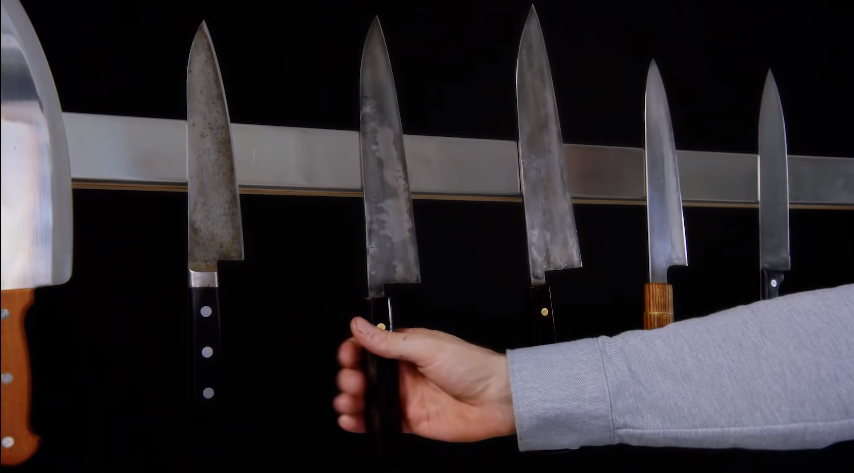 Some of the factors you'll want to consider when buying kitchen knives include obvious qualities like durability and longevity. But you'll also want to think about things like weight, grip, and how often the knives require sharpening.
This is especially important if you decide to invest in a full set of knives. There's nothing worse than purchasing a full set of knives, only to realize you don't love their feel. For this reason, you may also want to look into their return policy if you order them online.
What To Look For In A Kitchen Knife Set
If you've been wondering what to look for in a knife set, don't worry. We've got you covered when it comes to knife blocks and kitchen knife sets.
The first thing to look for is the selection. You want a good chef's knife, a set of steak knives, and at least a pairing and a bread knife. The knife block should also have a good sharpener.
Also keep an eye out for a knife set that matches your style. You're going to want to get knives that you actually want to use rather than just any old knife set.
What Should You Look for in a Professional Kitchen Knife?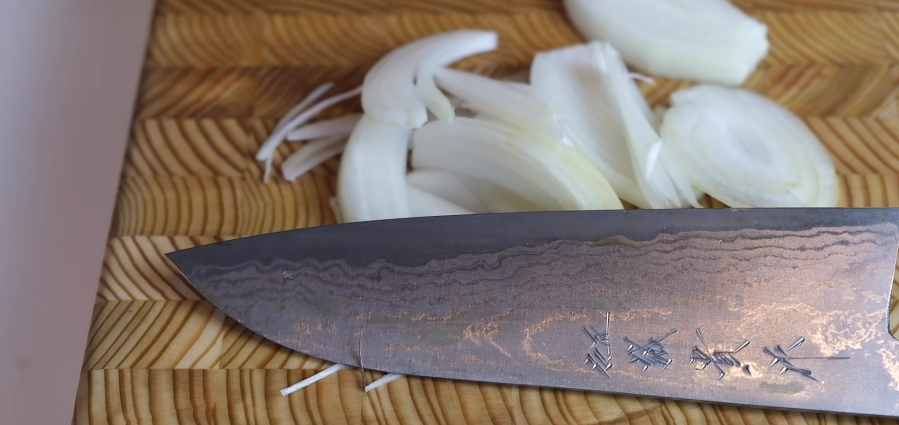 If you're looking for a professional knife built to last a lifetime, then you're likely looking for a forged knife rather than a stamped knife. Stamped knives are usually machine-made from inferior materials. Forged knives are crafted by experts, usually from a single sheet of steel. Forged knives tend to be more balanced, sharper, and durable.
Best Kitchen Knife Brands and Why?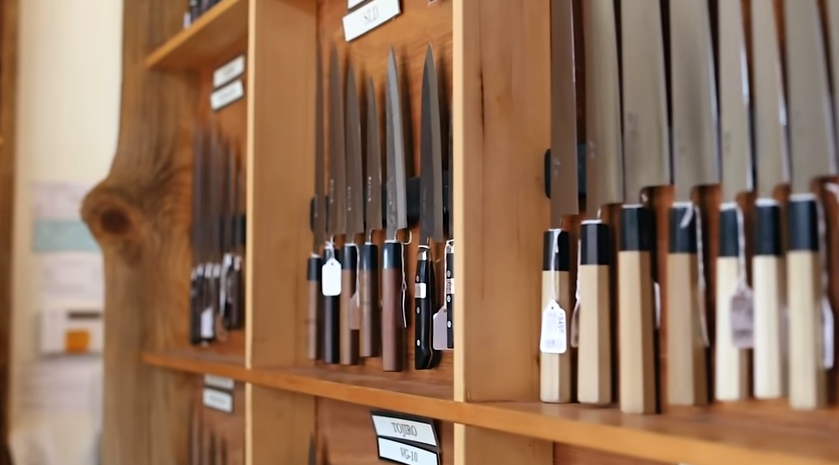 While there are plenty of great knife manufacturers out there, Wüsthof is a solid argument for the best. First founded over 200 years ago, Wüsthof is one of the oldest and most respected knife brands in the world, so, it's not a surprise that one of the most famous chef in the world, Gordon Ramsay, use them. Wüsthof knives are forged through a unique 40-step process by expert German craftsmen.
Best Steel for a Kitchen Knife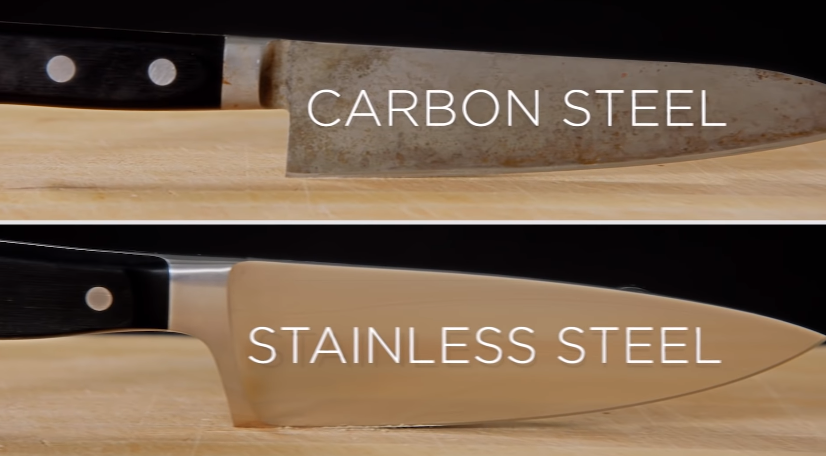 Stainless steel is a popular choice due to its resistance to corrosion, especially when mixed with other metals like chromium. Carbon steel is also popular, especially among high-end kitchen knives. While carbon steel knives tend to be sharper and harder than stainless steel, they also require more care to maintain.
Best Japanese Kitchen Knife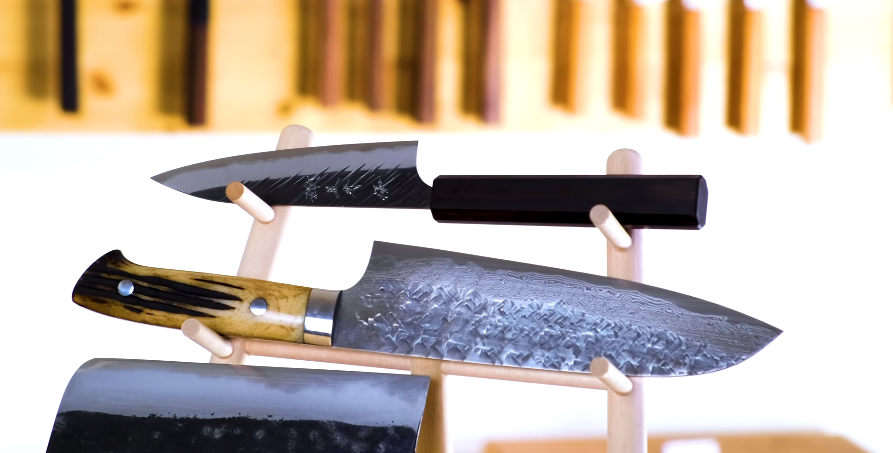 Miyabi is among the best Japanese knife brands. Each Miyabi knife is crafted through a series of 130 painstaking steps, resulting in not only an excellent kitchen tool but a true work of art.
Best Way to Sharpen a Kitchen Knife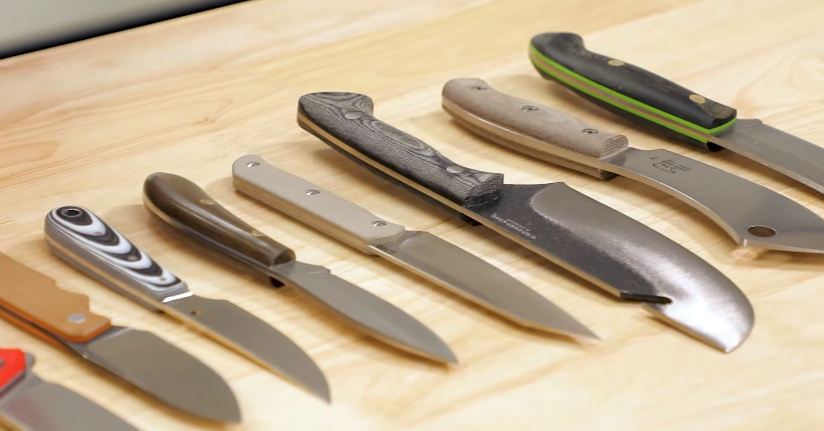 High-end kitchen knives will usually come with manufacturer directions for sharpening, which should always be followed carefully. One of the easiest ways to sharpen a kitchen knife is to invest in an electronic sharpener that will do most of the work for you. Alternately, you can use a whetstone to hand-sharpen your knife at a 15 - 20 degree angle.
Best and Highest Quality Kitchen Knives for All Budgets:
Best Overall - Mac MTH-80 Professional Hallow Edge Chef Knife
Mac Knife Professional 8 Inch Hollow Edge Chef Knife
amazon.com
Check price
2.5mm blade. The added dimples help the knife to glide through sticky foods such as potatoes, apples, and summer squash
Lightweight. Knife Length- 12.63 inches
Pakka wood handle. Blade thickness - ...
When it comes to overall versatility, Mac's 8" Mighty Mac Professional Hollow Edge Chef's Knife is hard to beat. Also known as the MTH-80, the model has become one of the brand's most popular. The pakkawood handle provides a strong, balanced grip, while the thin alloy steel blade allows for precise cutting. The blade's built-in divots go a long way to help prevent sticking, making it an excellent choice for meat and veggies alike.
Pros
Incredibly sharp
Well-balanced and durable
Blade pivots help make cutting sticky foods a breeze
Cons
Might feel a bit too light for some users
Best Mid Range Knives - Misen 8-Inch Professional Chef Knife
Misen's 8" Premium Steel Chef's Knife offers exceptional value without breaking the bank. Combining the best of Western and Japanese styles, Misen's blades feature a unique 15-degree angle which allows for a sharper, more precise cut. With a sloped handle for better control and handling, this is an incredibly versatile kitchen tool for an unbeatable price.
Pros
Half the price of competing knives of a similar quality
Incredibly durable
Designed to stay sharper, longer
Very versatile
Cons
A bit on the heavier side, which may be a pro or con depending on the user
Best Value - Imarku Japanese 8" Chef Knife
It's easy to see why the Imarku Japanese Chef Knife has become a #1 Amazon best seller. This high-carbon stainless steel knife is manufactured with twice the carbon of competing knives, resulting in a sturdier, harder blade that's built to last. Designed for quality and versatility alike, the imarku Japanese Chef Knife can handle an impressive range of kitchen tasks.
Pros
The high-carbon stainless steel blade incorporates chrome for a glossy, tarnish-free finish
Among the toughest knives available in its class
Pakkawood handle is designed for comfort and durability
Can be used for a versatile range of tasks
Cons
Not recommended for use on frozen foods
Not recommended for use in hot flames
Miyabi SG2 Chef's Knife
If you're looking to splurge, then Miyabi's SG2 8" Birch and Stainless Steel Chef's Knife may be the choice for you. While the Miyabi SG2 Chef's knife may not come cheap, it offers the ultimate combination of craftsmanship, durability, and precision.
Pros
Incredibly sharp and precise
Finely crafted by skilled artisans
The G2 micro carbide steel blade is engineered to last a lifetime
Wüsthof Classic Ikon Chef's Knife
WÜSTHOF Classic IKON 8" Chef's Knife
amazon.com
Check price
KITCHEN WORKHORSE – The WÜSTHOF 8" CLASSIC IKON Chef's Knife is essential for preparing any meal. This all-purpose cook's knife can be used for chopping, mincing, slicing and dicing
WÜSTHOF CLASSIC...
Wüsthof was first founded in Germany over two centuries ago and has since become world-renowned for exceptional cutlery. This stainless steel beauty features a double bolster design for impeccable quality and professional-level heft. The Wüsthof Classic Ikon is sharp enough to cut through meat and bone but versatile enough to effortlessly handle slicing and mincing.
Pros
The high carbon stainless steel blade is incredibly sharp for precision cutting
An excellent choice for butchering and mincing alike
Requires much less effort than other knives
The elegant ergonomic handle is specifically designed to resist fading
Cons
It doesn't come with a box or sleeve, which may be worth investing in as it's exceptionally sharp
ZWILLING Professional "S" Chef's Knife 6 inch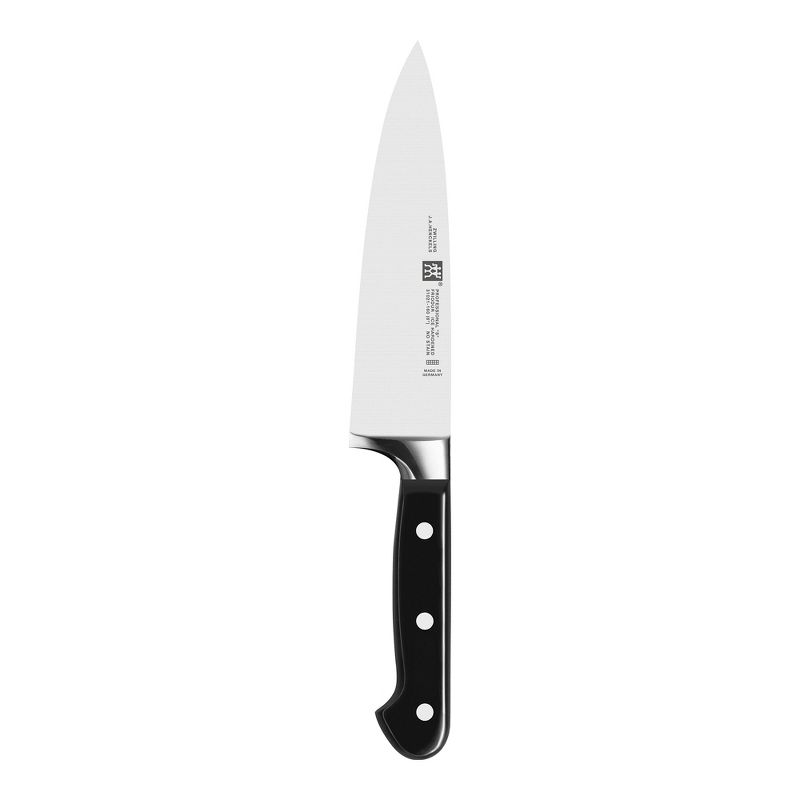 ZWILLING Professional "S" Chef's Knife
target.com
Check price
Specifications
Dimensions (Overall): 1 inches (H) x 1.5 inches (W) x 17 inches (D)
Weight: .47 ounces
Handle Material: Plastic
Blade Material: Stainless Steel
Cutlery Construction: Forged
Blade Len...
Zwilling is a knife company that was founded in 1731 in Solingen, Germany. Today, the company is known as one of the oldest and most popular manufacturers of professional kitchen knives in the world. Zwilling's Professional 6-inch "S" Knives are forged from high carbon steel and ice-hardened using Zwilling's trademark technique.
Pros
Forged from a single piece of steel that will not stain or chip
Designed to hold sharpness longer
Impeccable resilience
The thick, full bolster comes with a finger guard to prevent accidents
Cons
8" and 10" versions are also available but are on the pricier side
Dalstrong 12" Slicing & Carving Knife
Look no further than the Dalstrong Slicing & Carving Knife the next time you need to slice anything from prime rib to fresh bread. Forged from 7CR17MOV-X super-steel with a black Titanium Nitride coating, this knife is as striking as it is durable. Complete with a military-grade G10 handle and 15° edges, the DALSTRONG Slicing & Carving Knife is an NSF-certified masterpiece.
Pros
As part of Dalstrong's Shadow Black Series, it's designed to offer a rugged, eye-catching appearance
Comes with a space-saving sheath
100% satisfaction guarantee and lifetime warranty
The heat, cold, and moisture-resistant handle is designed for a firm, comfortable grip
Cons
Designed specifically for carving and slicing, therefore not as versatile as other knives
Victorinox Fibrox 8-Inch Pro Chef's FFP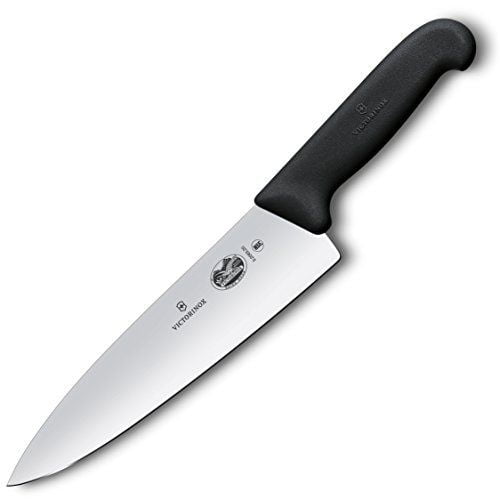 Victorinox is a Swiss knife and watch manufacturer that's best known for their legendary Swiss Army Knives. Rest assured that the company's 8" stainless steel Fibrox Pro Chef's Knife is created with the same expert craftsmanship. With a comfortable, ergonomic handle and a razor-sharp blade, it's a great choice for chopping, slicing, and mincing alike.
Pros
Amazing value for less than $50
Dishwasher safe, which is rare for knives of its class
Curved, slip-free handle for comfort and easy handling
Versatile and efficient for a wide range of tasks
Cons
Not as tough as some German or Japanese competitors
Requires occasional sharpening to maintain its edge
HOMEIT German Steel 8" Chef's Knife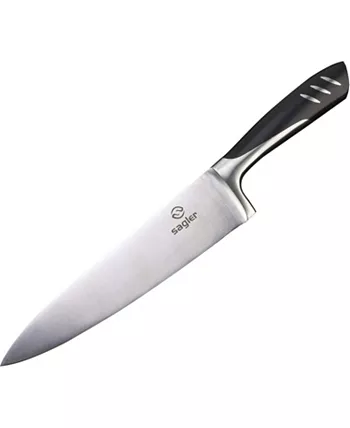 HOMEIT's 8" German Steel Chef's Knife is a great multipurpose option for any cook. Made from high-quality stainless steel, it's built to resist rust and tarnishing while maintaining its edge. With a well-balanced weight and comfortable grip, it can be used for anything from meat to melons.
Pros
Comes in a nice box, making it an excellent gift
Light-weight yet durable
Designed for all-purpose versatility
Slip-free, even when wet
Cons
Not as fancy as more expensive knives, but excellent value nonetheless
We hope this has helped answer some of your questions and point you in the direction of the best kitchen knife for your needs and budget.